Concept
I was inspired over the Christmas break by thinking about belief and how it is changing in the digital age (digitalisierung as would be said in Germany). Originally, I intended to specifically focus on digital technology and how that effects the evolution of our belief, but this seemed overly reliant on my interests and the current computational zeitgeist. The clean and sharp symbol of evolution from Arthur C. Clark and Stanley Kubrick struck me as a much better way to represent evolution in the abstract.
Analysis
belief noun
1. an acceptance that something exists or is true, especially one without proof.
2. trust, faith, or confidence in (someone or something).
For all of human history, belief has been present to provide meaning and explain the nature of the universe. These beliefs provided a world view around which communities organized and structures, both physical and of power, were erected. It is likely that the accumulated damage of belief exceeds any other concept. It is belief that drove us to reject Semmelweis' discovery, burn witches, and embark on the crusades. Our beliefs caused us to make these mistakes; what beliefs are we currently holding that lead us to make similar mistakes? Or, more precisely, what beliefs are we evolving towards that will cause us to repeat mistakes of the past?
In 2001: A Space Odyssey, the seminal work of Arthur C. Clark and Stanley Kubrick (Arthur C. Clark shown below on the set of the movie), evolution is imagined to be precipitated by the appearance of a black monolith. The discovery of the monolith is shown to precede the development of tool usage by apes, the rebellion of the AI HAL, and the final ascension of the Star Child. The connection of the black monolith to evolution is cemented in pop culture through the initial minutes of the film depicting the first of these scenarios.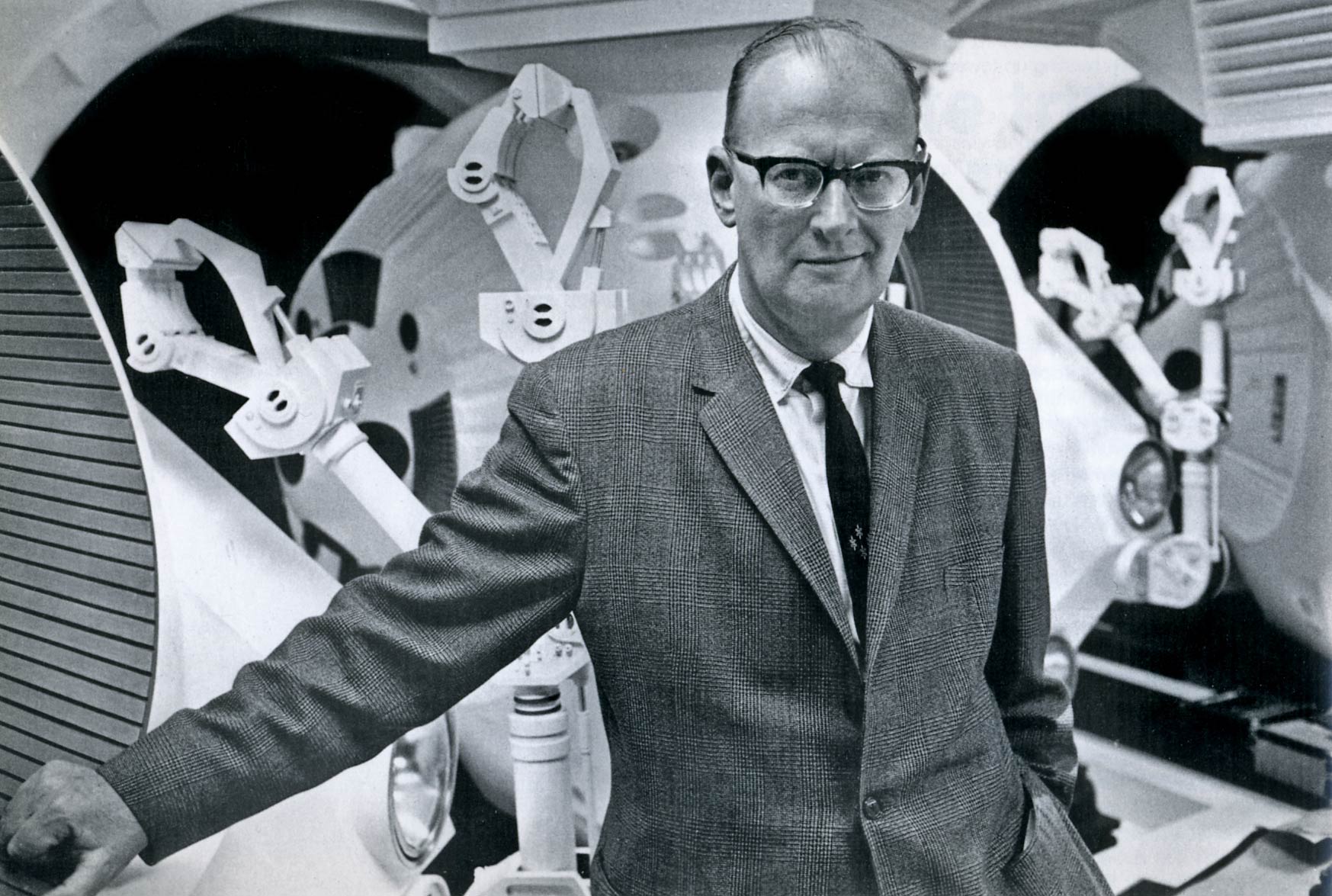 Synthesis
In this work, the image of the black obelisk is placed in the context of Christian religious imagery to ask a question about the evolution of our beliefs. Light is projected on the scene from an external outside despite the scene existing in an apparent infinite darkness. The floor deliberately resembles that of Notre Dame de Paris (shown below), with the two pillars being photogrammetrical scans from there as well.